Puerto Banus Marbella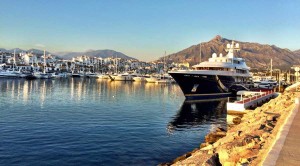 Puerto José Banús, more commonly known as Puerto Banús is a marina located in the area of Nueva Andalucía, to the southwest of Marbella, Spain on the Costa del Sol. It was built in May 1970 by José Banús, a local property developer, as a luxury marina and shopping complex. It has since become one of the largest entertainment centres in the Costa del Sol, with 5 million annual visitors, and is popular with international celebrities. Developed around a coastal village in the Mediterranean architectural style, Puerto Banús contains expensive shopping malls, restaurants and bars around the marina. It is also scene to many exotic cars that are owned by international celebrities and wealthy owners that also own large yachts. Luxury cars like Rolls Royces and high end sports cars like Ferraris, Lamborghinis and Mercedes Benz are a common sight in the summer months around Marbella and Puerto Banus. These cars are brought to the eye of the public via huge showrooms and dealerships showcasing the latest supercars.
The architect Noldi Schreck, who participated in the design and construction of Beverly Hills, was visited in 1966 by Prince Alfonso de Hohenlohe to ask him to work on the Hotel Marbella Club. Schreck's first job was to meet José Banús (a close friend of Francisco Franco), and convince him that Puerto Banús was not a suitable place to build huge skyscrapers that would house thousands of wealthy families. He proposed a sophisticated Andalusian village and marina, the first port made by a single architect. José Banús became the largest developer of residential tourism complexes on the Costa del Sol. The port took his name and he became famous with the epithet "the regime's builder.
The lavish opening of the complex in May 1970 was attended by, amongst others, the Aga Khan, film director Roman Polanski, Playboy founder Hugh Hefner, Dr. Christiaan Barnard (pioneer of the heart transplant), and Prince Rainier and Princess Grace of Monaco. A young Julio Iglesias was hired to sing for the guests for the sum of 125,000 pesetas. Three hundred waiters from Seville served 22 kilos of beluga caviar to 1700 guests.
In 2011, it was reported that one of the largest-scale developments in Marbella's history was to take place with a 400 million euro investment into La Bajadilla, east of Marbella, by Qatari Sheikh Abdullah Ben Nasser Al-Thani which included a 200-metre (660 ft) quay for cruise liners, a five-star hotel on the marina, as well as bars, restaurants, shops and supermarkets to compete with Puerto Banús.
Puerto Banús is located on the Costa del Sol of southeast Spain, 6 km (3.7 mi) southwest of Marbella, 64 km (40 mi) southwest of Malaga and 782 km (486 mi) south of Madrid. The climate of the area is protected in its northern part by the Coast Mountain Range of Cordillera Penibética. It has a microclimate that produces a mean annual temperature of 18 °C (64 °F).
The Malaga Airport is 60 km (37 mi) away. There is a good network of roads and transport services connecting Puerto Banús with adjacent towns and suburbs.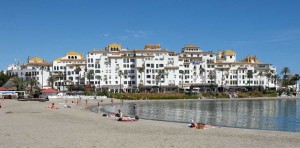 Its streets are lined with expensive luxury boutiques like Christian Dior, Gucci, Bvlgari, Versace, Dolce & Gabbana, and others. One stretch is known as "The Golden Mile". Apart from the chain of restaurants, boutiques, in the heart of the Antonio Banderas Square is one of the largest El Corte Ingles department stores in Spain, including the up-scale hypermarket, Hipercor. The Boulevard de la Fama de Puerto Banús was created to pay tribute to individuals who have promoted Marbella nationally or internationally through their professional work.
A three-ton statue of a rhinoceros by Salvador Dalí was placed in Puerto Banús in 2004. Officially known as Rinoceronte vestido con puntillas ("Rhinoceros dressed in lace"), Dalí created the sculpture in 1956 following the filming of his surrealist movie La aventura prodigiosa de la encajera y el rinoceronte ("The prodigious adventure of the lacemaker and the rhinoceros") in 1954. Another impressive statue sculpted in bronze and copper by the Georgian sculptor Zurab Tsereteli is that of "La Victoria", which stands tall at 26 metres (85 ft) height over a granite pedestal. Unveiled in 1994, it was a gift from the Mayor of Moscow.
What to do:
Puerto Banus Street Market (Every Saturday 9am-3pm) The Puerto Banus Street market or Puerto Banus Saturday market is situated near the bull ring in Nueva Andalucia and it is held every Saturday from around 9am to 3pm. The street market runs from Avda. De Jose Banus (by Playas del Duque) all the way up to the shopping centre Centro Plaza. It is one of the largest markets on the Costa del Sol. You can find every type of goods for sale. The most popular are Shoes, Bags, Crafts, Furniture, Flowers, Fruit & Veg, Paintings, Clothes and Antiques, and there are good bargains to be made. It's a great place to visit, even just to walk around and look at people making bargains (you might learn a trick or two) and soak up the exciting atmosphere. In the summer it gets very hot and very busy so beware of your bags, money etc. Make sure you've got plenty of sun protection on too!
Ferry Fly Blue – Puerto Banus to Marbella: Departs opposite 'Sinatra's' bar. The Fly Blue Uno motor catamaran offers daily cruises between Puerto Banus and Marbella Marina, with a duration of some 30 minutes each way. Leaving from Puerto Banus, which elevates the mode, fortune, glamorous parties and high standards, you will enjoy the panoramic views along the coastline of Marbella and its Golden Mile where the most luxurious villas are found lying at the foot of La Concha mountain. A return boat cruise ticket will cost you 15 euros and 8.50 euros one way which is cheaper than a taxi and a return boat cruise ticket for children is 8.50 euros and only 5 euros one way.
From Wikipedia&WikiVoyage, the free encyclopedia
Take a walk through Puerto Banus Marina and watch our Video