Marbella by night
Every visitor to Marbella's town will be surprised by the old city part of Marbella, with its many narrow streets full of restaurants, bars and shops. The street plan of this part of the city is characteristic of an Arabic old city, there is no system in the plan of the streets, some ends at a house entrance and others just connecting another street with the next one or opens in a plaza. Most of them with a Christian church.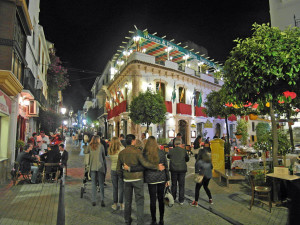 The old town in Marbella is full of shops where you can buy souvenirs like leather goods or ceramics, all made in Spain. It's a typical area for tourists to walk around vesting money on some unusual things. At night when the sun is down and the temperature getting cooler, its nice to visit the old town of Marbella and dine in one of the many nice restaurants which you can't miss. A lot of this restaurants are really excellent, having delicious Spanish and International cuisine with nice atmosphere, while other restaurants are just picking up tourist money. So its good to inform yourself in advance about the best restaurants in the old city of Marbella.
Plaza De Los Naranjos, which means the Orange Square, is one of the must see places in the old city of Marbella, especially in summer nights it's nice to walk through and siting under one of the orange trees smelling the nice flavor of the orange blooms. There is also a tourist shop where you can get maps and tourist guides about Marbella.
Marbella's Old City at night could be really amazing, so don't miss it when visiting Marbella. So if you are here for holidays you must see Marbella at night.
You can check all Marbella's restaurants and all events in Marbella on our website. Just visit www.marbellaevents.guide