A man, a piano: when John Legend enters the stage, the singer needs nothing more than his voice and a piano to present his songs to the audience.
Last Wednesday, July the 24th, the soul artist honored Marbella  his concerts at the annual Starlite Festival 2019.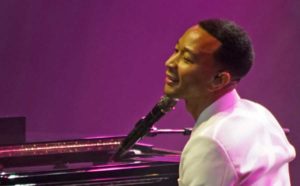 One step ahead: John Legend lives up to his name! An artist who inspires the masses with his own voice – without any fireworks, shows or band. A true soul legend. This is exactly what he proves at the concert in Marbella, all with his powerful voice and only accompanied by his piano.
Never before has an artist come out on stage with less: John Legend, a piano, his breathtaking voice. This was enough to enthuse the guests from the first note on. With his classic "Bridge Over Troubled Water" in a very own interpretation, he started into the evening and increased from song to song to the highlight on which all the audience waited the whole evening: "All of me". John Legend has a special way of incorporating his life story into the music. So he told the guests his beginnings as a musician and how hard it was to get a record deal.
Even classics of his many years of career could not be missed in the evening in Marbella. The 40-year-old legend with his numerous songs showed some from his first albums. then to inspire the audience even more with his current hits. For the guests of the Starlite Festival, the evening was one of the most intimate performances of an artist at this festival, which will remain in fine memory thanks to the sensitivity of John Legend.
See also Sting at Starlite Marbella     Roger Hudgson at Starlite Marbella