Sting at Starlite Festival in Marbella – Police hits in a new style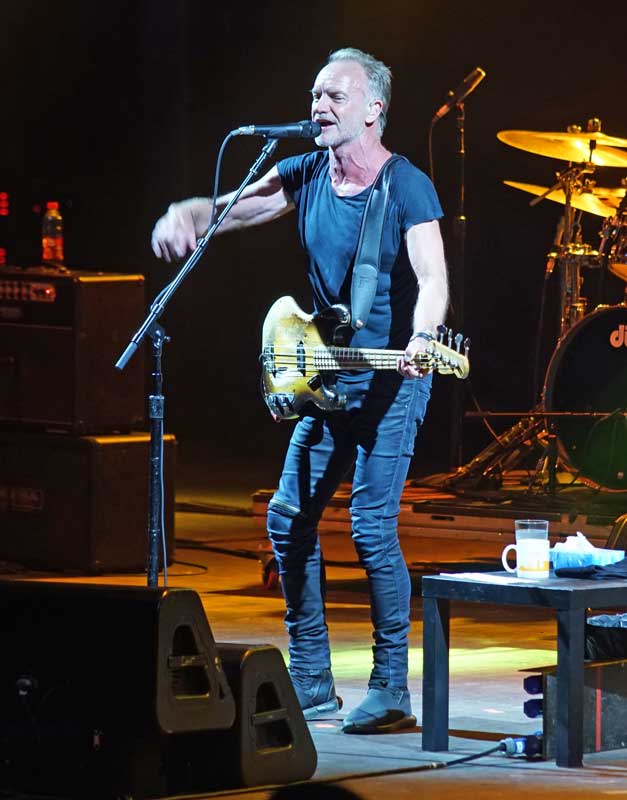 At the beginning a small anecdote; When we photographer visited the concert yesterday, we were told that the management of Sting allowed us to take photos of the first two songs only and then have to leave the concert. We were not allowed to stay there and watch the concert which is very funny, especially for me, because I had to write this article. But from my experience, I know that often the management of such stars are very sensitive and bring crazy rules that are unfounded and do not reflect the opinion of the artist himself. I once met Lady Gaga before a concert in Vienna and asked her about it because her management also had such strange rules, she was very surprised why it said so and said that she do not know about it and she does not care how many photographs you take or how long you stay after the shooting. But that's the way it is in the show business, everyone who is involved in wants to be important. In any case, I found a secret place where I could listen well and  follow the action with one eye.

"Roxanne" on acoustic guitar opens the set at the Starlite Festival. A legend has come to Marbella for the second time. Sting, 67, has now been in business for half a century. 3000 visitors expected the hits of Police and his solo career.
He looks good, in his black shirt and black jeans, wiry, charismatic. Yes, that's the way to age. The unmistakable voice has preserved its juvenile anyway and Sting easily fills the entire plaza with it. According to his concert promoter, the musician Gordon Sumner has sold 100 million albums with The Police and as a solo artist. On stage, the 67-year-old with the three-day beard looks at home, happy-relaxed and modest. The stage name does not really fit – but it was reported that he was baptized at the beginning of his career because of a wasp-like yellow-and-black striped pullover to Sting.
The old songs sound new. It's a look backward, also or just because no song of the evening is younger than 20 years "Brand New Day" also comes from the same name 1999 album like "Desert Rose". But they sound new: Sting has just recently subjected the old songs on his "My Songs" album to a gentle, sometimes badly. Those who resented his new style back then, when he mutated into solo paths to the fine Mr. Gordon Sumner, will hardly be happy about his jazzy reinterpretation.
A great rock band is on stage in Marbella, along with Sting on bass, guitars and drums, as well as keyboards, background vocals and harmonica. The old songs take off, powerful and yet tender. And the virtuosity of this band makes one forget how complex the arrangements are in the meantime, how rock, funk, soul and world music stratify into a larger unity. How delicately the "Fields of Gold" are laid out – Songs of incredible closeness. And at the latest with the songs "So Lonely" and "Desert Rose" the audience rises to dance, sing along and clap.
About half of the program comes from Police days when Sting and his colleagues Andy Summers and Stewart Copeland shook the wave with reggae. "Every Little Thing She Does Is Magic", "Walking on the Moon", "Roxanne" … all are there. But in a new guise. It is a mature concert, for a mature audience, Fireworks, movies on the big screen or dancers do not need Sting. His hits from four decades will be accompanied by an atmospheric concert and will stay in the ears long after the show. Just the magical lighting which sometimes is too hard and dazzles the audience.
The feelings of those old days are immediately there again with these hits, its like falling in love and out of love again. It was just perfect.
Photos&Text by Aki